Three Wire's MyAdvisor Division inspires healthy change by leading the way into patient-centered wellness and behavioral health care. Our mission is to treat every patient as a person with unique opportunities for incorporating healthy habits into daily life. No one should feel alone on their journey to seek help for mental health challenges, which is why MyAdvisor works with a variety of professionals to provide care coordination where it matters most.
From licensed clinical professional therapists to certified coaches, our team provides 24/7/365 support. With a variety of options available within MyAdvisor services, it is important to consider the key factors that distinguish between a therapist and a coach when selecting the best path for success.
Maybe you yourself are trying to decide whether to hire a therapist or a coach to guide you through stress management of becoming a new parent or another kind of major life transition, but you don't know where to start. Coaching is a partnership with clients in a thought-provoking and creative process to inspire maximum potential within a clarified goal and timeframe. Therapy is a clinical-based approach to treating mental health issues by analyzing past experiences to inform current situations.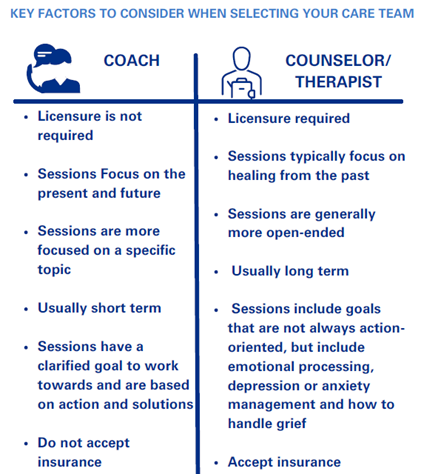 The bottom line.
Both coaching and therapy are tools for self-development. They provide great opportunities to have a professional guide you through the most challenging obstacles in your life. Depending on what you want to focus on, you can engage in either service one at a time or both at the same time if you have the means.